By Nathan Bennett
Life and Safety Management Tools
In October of 2011 I started with Life and Safety and now, 8 years later, have seen our online services grow from a small OSHA 10 and 30 reseller service to a department that develops custom online training solutions for employee and contractor orientation as well as site and task specific training.
Inspections, Audits, Observations, and Assessments
Life and Safety creates custom training solutions for our clients and over the past 5 years we've built digital inspection solutions that allow operators and inspectors to complete their checklists on a smart device while in the field. There's no need to carry a clipboard, complete paper forms, carry it back to the office, review the findings, forward for remediation, or file for retention. Everything is digital and stored in a database with immediate notification of deficiencies and the opportunity to respond effectively and efficiently to trouble areas while at the same time incentivizing positive behaviors such as completing inspections, audits, observations, and assessments.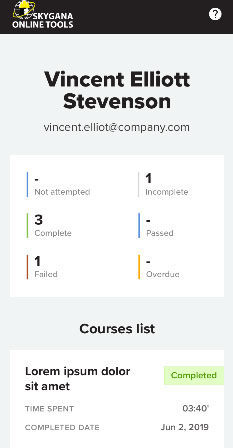 Training Transcript Management
The newest tool we've added is the ability to access contractor training records immediately from anywhere. Instead of relying on wallet cards or word of mouth the contractor has a scannable code on their ID badge, hardhat, or something equally as accessible. The safety person can then scan that code and access all their training while verifying that they are trained to do their job tasks.
On the Horizon
We are continuously improving our online tools and processes with a few projects currently under development. The most exciting new tool we're working on is an ISO certification process management tool. With it you'll be able to manage your documentation and access it easily much in the same way that our contractor transcript tool works. More details about this new tool will become available after the first of the year.
Thank you to all our clients who have and continue to help us test and build these tools for safety.