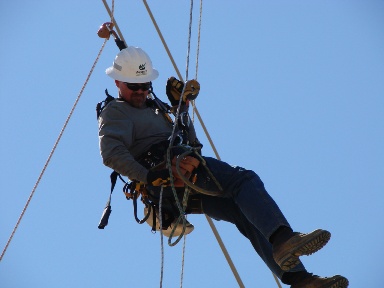 Life and Safety is delivering two separate fall protection competent person training classes on July 23-24 and again on July 30-31. Training will be located at the Michelin Training Center with lunch provided both days.
Enrollment for these classes will begin on July 1st at which point we will update this post with registration information.
Registration is now open:
http://lifeandsafety.com/enroll/#!/Instructor-Led-Training/c/5663028/

Course Summary
This two day course covers the information needed to properly training you to be a fall protection competent person. The course will begin with a talk of the walking working surfaces update an how the change to the rule may affect your workplace. After the walking working surface discussion you will learn about fall protection. This portion of the training includes lecture, video, and hands-on scenarios. On the last day of training you will witness a live drop demonstration and see how various fall protection devices function.
Full Course Description
Walking Working Surfaces Update
Falls from heights and on the same level (a working surface) are among the leading causes of serious work-related injuries and deaths. OSHA has issued a final rule on Walking-Working Surfaces and Personal Fall Protection Systems to better protect workers in general industry from these hazards by updating and clarifying standards and adding training and inspection requirements.

The rule affects a wide range of workers, from painters to warehouse workers. It does not change construction or agricultural standards.
The rule incorporates advances in technology, industry best practices, and national consensus standards to provide effective and cost-efficient worker protection. Specifically, it updates general industry standards addressing slip, trip, and fall hazards (subpart D), and adds requirements for personal fall protection systems (subpart I).
OSHA estimates that these changes will prevent 29 fatalities and 5,842 lost-workday injuries every year.
Fall Protection Competent Person
The Competent Person training enables the attendee to be responsible for the immediate supervision, implementation, and monitoring of a managed fall protection program. Upon completion of this course, you will receive a certificate recognizing you have completed the training required to meet OSHA and ANSI requirements as a Competent Person.
This course includes in-class lectures including slides and video and hands-on scenarios applying theory discussed to practical workplace situations. This Competent Person training is a pass/fail program incorporating both written and practical examinations and is based on the requirements of the OSHA regulations, ANSI Z359.2 standard as well as local requirements that will be discussed and reinforced. Attendees will learn practical solutions to difficult fall protection problems using appropriate tools and equipment.
Topics Discussed
Regulations relating to all fall protection topics
Fall hazard elimination and controls methods
Fall hazard surveys and fall protection procedures
Responsibilities of Competent Persons
Detailed inspection of equipment components and systems
Fall protection system assessments and determining when a system is unsafe
Fall protection rescue procedures
Selection and use of non-certified anchorages
Fall hazard surveys
Live Drop Demonstration
A drop demo using a 220lb. weight and 6′ shock absorbing lanyard to show forces generated in a fall and resulting impacts.
Demonstrates how the energy absorber works, resulting in a reduction in Max Arrest Forces, and easy stop with no recoil. In addition, the drop with 6′ lanyard illustrates total fall distance and a minimum clearance of 19′ required to use a 6′ lanyard.
We will then drop a 220lb. weight using a self- retracting lifeline. This will demonstrate the lesser total fall distance and fall clearance, as well as the importance of choosing the appropriate connecting device when working at heights below 19′.