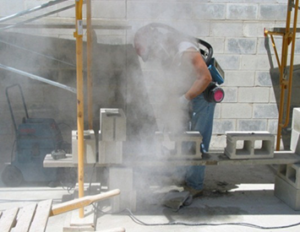 Become compliant with our online services and follow the requirements for 1910.134 or 1926.1153 by taking our respirable crystalline silica competent person training online.
The rule took effect on June 23, 2016, after which construction and general industry have one to two years to comply. Construction must comply by September 23, 2017 and General Industry has until June 23, 2018.
To meet this new requirement you must provide the appropriate level of training and protection to your employees. We now offer both employee and competent person online training for the new respirable crystalline silica standard. You also have the option to complete the medical evaluation online.
TRAINING
Our respirable crystalline silica competent person training comes with all the tools you will need to create and maintain a successful silica program. When you sign up for this course you will have access to training documents, forms, files, and templates that you can use to create your silica program and successfully train your people.
Training topics include:
Respirable Crystalline Silica
OSHA General Duty Clause
Personal Protective Equipment (PPE)
Hazard Communication with GHS
Respiratory Protection
Respirator Fit Testing for Supervisors
Sign up here!
http://lifeandsafety.com/enroll/#!/Respirable-Crystalline-Silica-Competent-Person/p/95094025/category=4405370
MEDICAL CLEARANCE AND FIT TEST
Before being fit tested and able to effectively use a respirator a medical evaluation must be performed. Life and Safety is able to offer doctor reviewed online medical evaluations with approval often available in less than 24 hours. The medical evaluation is an optional add on for the training.
Once the medical evaluation has been successfully completed each person must be tested on the respirator(s) they are to use. This fit testing can be performed at our home office located in Greenville, SC or one of the 5000 partner clinics located across the United States.
For fit testing in the Greenville, SC area please call our office at 864.297.4521. For all other areas please contact our partner Occu-Med.